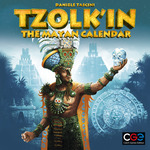 Designers: Simone Luciani, Daniele Tascini
Publishers: Czech Games Edition
Boardgamegeek Info: Tzolk'in
GameMasters
GM: Andrew Emerick
Schedule
Demo: Thurs 6:00 PM
Heats: Thurs 6:30 PM, Sat 12:00 PM, Sat 9:00 AM
Semi-Final: Sat 3:00 PM
Final: Sat 10:00 PM
Plaques
The top finisher from the Final will receive a plaque.
Event Description
3 Heats of 2 1/2 hours each for the preliminary rounds. 4-player games are preferred but we will use 3-player tables if necessary to allow all players to play.
Start player for each game will be random draw.
Elimination Rounds
The Top 16 players advance to the semi-finals, as determined by the standard Euro Quest tiebreakers. The semi-finals will consist of four 4-player games with each winner advancing to a 4-player final. Semi-finalists with the most heat wins will be spread out evenly amongst the semi-final tables.
We will consider margin of victory if we have no other way to break a tie (for example, amongst player with one heat win and no other heats entered.
Rules Variants
No house rules or rule variants will be enforced at any point during the tournament.
Tie Breakers
If two or more players are tied for the point lead after final scoring (including converting all resources/corn into points and returning them to the supply), the following tiebreakers will be used, in order:
1) number of workers still left on the wheels (2 workers left on the wheels is better than 1 worker left, regardless of where they are)
2) total value of workers left on the wheels (count the number of the spots above the zero spot on each wheel)
3) corn left over (the maximum left over is 3, as anything >4 has been converted to points)
See GM, if there are any questions.