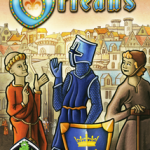 Designers: Reiner Stockhausen
Publishers: Tasty Minstrel Games
Boardgamegeek Info: Orleans
GAMEMASTER
GM: Eric Engelmann
SCHEDULE
Tournament: Fri 6:30 PM
Heat of 16 players. Winners advance to the final table immediately after the heat finishes.
Prizes
Tasty Minstrel Games has provided a fantastic prize package! The top three finishers in the final will all receive prizes.
SIGN UP
The tournament can accommodate up to 16 players. Players must sign up at the Front desk by Friday at 6PM.
If you aren't able to sign up in advance, check with Eric right before the tournament start time. If there are any open slots, they will be filled first come, first served.
Participants should already know the rules.
Event Description
Tasty Minstrel Games is sponsoring this stand-alone tournament.
During the medieval goings-on around Orléans, you must assemble a following of farmers, merchants, knights, monks, etc. to gain supremacy through trade, construction and science in medieval France.
For more information about the game, check the Tasty Minstrel Games website at:
Format
Up to 16 players will compete in an initial heat using the Orléans base game. 4 player tables will be used. The games will used the published rules, with the following exceptions:
Money is restricted to 212. Remove the bathhouse. No promo tiles will be used.
Remember, you can't take an action if there is no citizen left for that action.
Notes Your four starting workers cannot go into the beneficial Deeds board. If you place one into the space that sends them in and you or someone else catches your mistake during that turn, they stay on the space, and you have to use a pull to get them back to the supply.
However, if you send in one of your starting workers and no one notices it during your turn, but you or someone else notices it later on during the game, your starting worker stays put, but you lose whatever benefit you gained by placing them in there. Meaning you either lose a certain number of coins, or a certain number of movements on the book track. And if putting them in there gained you a citizen tile, you lose that too.
Also, you do have the option of placing any worker on the space that sends them in and just never sending them in. You're allowed to leave workers on a space for the rest of the game just to get them out of the way. The only stipulation is you have to put a worker on a space that matches their color. And you're allowed to use spaces that have already been closed or that you personally have already maxed out too, as long as the colors match.
 Finals
The winner from each table will advance to a 4-player final table. If the winner cannot continue, then the 2nd place player at that table will advance.
The final game will begin immediately after the heat.