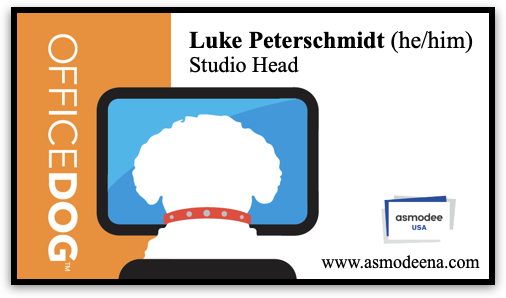 EuroQuest Post Template:
Office Dog Studio (a new studio created by Asmodee North America) is looking for original board and card game pitches at Euro card games for publication.
We are particularly looking for card games. Do you have the next L.L.A.M.A, The Crew, Scout, No Thanks or Point Salad?
The ideal card game will be:
Use about 100 cards or less, and maybe a handful of those components / tokens. It should be able to be sold for about $/€ 20 or less.
Should do at least one thing that is totally new in card games, even is the rest is familiar
Suitable for a global audience
Deeply play-tested and ready to work with a publisher
Evoke strong emotions from players
We are also interested in original board games with a very strong hook.
We are not currently looking for:
Kids (Age range 5+ and under), Adult Party (with NSFW content), Collectible, Miniature War, Table Top Roleplaying, or Digital Only games
Games built for a 3rd party license that is intrinsic to the game
We are not looking for English localization/partnership opportunities of existing games
Submitted games should not be under consideration elsewhere at Asmodee
We are likely not looking for (though exceptions could be made for exceptional ideas):
Games with deduction as the primary mechanic (such as a pure social deduction game)
Games mostly about spelling words
Drawing games where the interest comes from players not drawing well
Party games with a judging mechanic at its core
Two player only games (unless they have an unique play pattern)
If your game matches with the above, please send a short overview video (2-3 minutes highlighting what makes your game fun and special) and a PDF sell sheet (see below for sell sheet best practices) to bbornmueller@asmodeena.com by October 28th 2022 for consideration with EuroQuest Submission in the subject line of your e-mail. We will reply by November 3rd to let you know if we would like to schedule a time for an in-person meeting.
Idea Sell Sheet Includes:
A single sheet that contains:
Your name and contact information (especially e-mail address)
Game name or working title
Link to 2-3 minute video explaining the most interesting part of the game (not a rules teach just an overview with a highlight on what is fun and unique)
Style of game and / or types of mechanics
Short (2-4 senate) description of the game play and theme (also note if theme is flexible)
Highlight what is the most fun part of the game
Highlight what are other games that a player of of your game might love
Highlight what emotions/feelings is your game trying to evoke
One or Two images to help visualize the game during play
Player Count
Play Time
Age range
All presented in an easy to read format
Nice to have on the sell sheet:
Example of what players do on their turn (the most exciting parts) and over the arc of the game
Key component list (to get a sense of what the product would look like)
Any previous publication / self publication history for this or other games