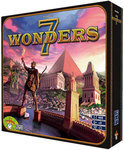 Designers: Antoine Bauza
Publishers: Repos Productions
Boardgamegeek Info: 7 Wonders
Gamemasters
GM: TBD
Schedule
Demo: Sat, 12:30 PM
H1: Sat, 1:00 PM
H2: Sat, 10:00 PM
H3: Sun, 11AM
SF/F: Sun 1:00 PM
Plaques
The top finisher in the final will receive a plaque.
Event Description
All games will be 5 players whenever possible. If we have an uneven number of people, there may be some 4-player games.
The heats will use the base game only
Elimination Rounds
The top 21 players based on performance in the heats will be eligible for the semifinals. There will be three 7-player games in the semifinals,

with the 1st and 2nd place winners in each game advancing to a six- player final.

If there are more than 21 unique winners there will be four or five semifinal games (to make the numbers as even as possible) where all 1st place winners and the top 2nd place winners needed to round out a seven-player final will advance.
We will include the Cities expansion in the semi-final games. The final game will use both the Cities and Leader expansions.
Tournament Rules
The Manekin Pis wonder will not be used during any part of the tournament since it was a special "Essen" expansion and not everyone will have a copy of it.
Instead of using the side of the wonder that matches the letter that is facing upright when you turn over your 'wonder selection' card, you may choose to use either the A or the B side of the wonder.
All other standard rules will apply, and when there is a conflict, we will use the most current edition rules. Specifically, these rules state that in the event of a tie score, the player with the most coins wins. If there is still a tie, then a die roll will be used to determine who is awarded the tied position.
The Catan Island expansion will not be used during any part of the tournament.