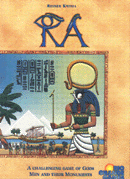 Designer: Reiner Knizia
Publishers: Alea, Rio Grande Games
Boardgamegeek Info: Ra
GameMasters
GM: Ivan Lawson
Assistant GM: Scott Fenn
Schedule
Demo: Thurs 11:30 AM
Heats: Thurs 12 noon, Thurs 9:00 PM, Fri 1:00 PM
Semi-Final/Final: Sat 12:30 PM
Plaques
The top two finishers in the Final will receive a plaque.
Event Description
Preliminary Rounds
Three heats, standard 1st edition rules.
Elimination Rounds
There will be one Semi-Final Round that will advance five players to the Final Round. All winners of two or three heats will qualify for the Semi-Final Round. The Semi-Final Round will consist of no less than two tables and no less than four players per table.  Also, in the event that there are more than eight multiple heat winners, then one game winners will advance until the next multiple of four or five is reached in order to even the number of players at the semi final tables. (See Tie Breakers)
For the Final Round, the Semi-Final winners will advance, followed by the second place players with the closest percentage to the winner and, if needed, the third place players with the closest percentage to the winner, until the required number of five players is achieved.
Rules Version / Common Mistakes / Special Rules
Rules published in the 1st edition will be used. No special or variant rules.
Tie Breakers
If necessary, one game winners needed to fill the Semi-Final Round will advance according to the following criteria:
One win advances before no wins.
Second place advances before third place, and third place advances before fourth, etc.
Placement ties are broken by the closest percentage to first.
Flip of a Euro coin.
Note: Ties in scores between those eligible to advance will be broken by the higher sun total.
Time Limit Adjudication
Games running past the time limit WILL be adjudicated so people can make the next round of games. If ALL players and the GM agree, the time limit can be extended.Adjudication: GM will inform all games still in progress when there are fifteen (15) minutes and five (5) minutes remaining in the round. At the conclusion of the five minute period, all games will end immediately, as if the last Sun had been drawn, and each player will compute his/her score according to the end of game scoring in the official rules.