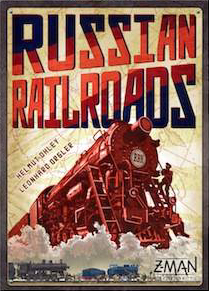 Designers: Helmut Ohley, Leonhard "Lonny" Orgler
Publishers: 999 Games, Hans im Glück Verlags-GmbH, Z MAN
2015 Golden Geek Best Board Game Nominee
Boardgamegeek Info: Russian Railroads
GameMasters
GM: Kristina Lynch
Ass't GM: Eugene Yee
Schedule
Demo: Thurs 12:30 PM
Heats: Thurs 1:00 PM, Fri 6:30 PM, Sat 11:00 AM
Semi-Final: Sat 10:00 PM
Final: Sun 1:00 PM
Plaque(s)
The top finisher from the Final will receive a plaque.
Event Description
Preliminary Rounds
2 Heats of 120 minutes each for the preliminary rounds. 4-player games are preferred but we will use 3-player tables if necessary to allow all players to play.
Players may choose the Russian Railroads base game, or the German Railroads expansion. The GM will attempt to match up players for their preferred game type.
There is no difference for scoring, or winning points for either board.
Tiebreakers
After final scoring, if players are tied, the following tie breaker will be used:
Total track advancement (including industry track movement) with each color counting (1pt each regardless of color)
Elimination Rounds
The semi finals will consist of both Russian and German boards. The final board will be decided by the majority decision of players, if a tie, the German board is favored.