The Games Club of Maryland proudly presents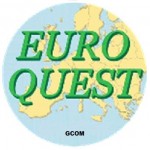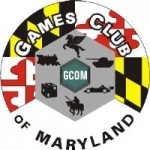 EUROQUEST 2022
A European-Style Gaming Conference
Dates & Location: TBD
Important Announcement from the GCOM President
GCOM is pleased to announce that we have appointed John Weber as EuroQuest 2022 Convention Director. John brings a wealth of experience to the role. He's served as EQ Convention director several times, has been on the GCOM board, and has been a GM at EuroQuest and at WBC. The board appreciates John's willingness to commit his time to this important role in support of the entire GCOM community!
Thanks to all who expressed an interest in the position. Your support is also appreciated.
Information about 2021 for reference
• • • • • • • • • • • • • • • • • •
 • Eurogame tournaments • Wild Card tournament •
• World Series of Board Gaming Qualifier •
• Catan National Championship Qualifier •
• Ticket to Ride "minis" knockout tournament •
• Play to Win • Learn New Games •
• Puffing Billy • Mega-Civ • War of the Ring • 
• • • • • • • • • • • • • • • • • •
• View the list of previous tournament winners •
EuroQuest is a unique blend of tournaments and open gaming, providing a competitive forum for the play of popular "European" style boardgames in an in-depth format not available elsewhere. All tournaments provide multiple opportunities to compete in the same game. EuroQuest offers a wide variety of activities for the non-tournament gamer, including prize drawings, designated open gaming space with access to the GCOM games library, new game demos (including some hot new releases from Essen and the United States), demos of new games and prototypes by game designers, and more. Check for details on the EQ Presents page, which will be updated regularly right up until the week before the convention.
All of the tournament rules and activities are summarized here. Details of specific items and scheduled events will be updated in the weeks leading up to this year's EuroQuest.
Older updates about the status of EuroQuest 2021
For More Information
Contact: EuroQuest Convention Director director@euroquestcon.com
Download the flyer: EQ Flyer 2-up PDF, EQ Flyer Full Page PDF
EuroQuest is an official event of the Games Club of Maryland ("GCOM"). For more information about GCOM, see www.gamesclubofmd.org  Attendees must agree to adhere to all by-laws of GCOM, as well as the GCOM standards.