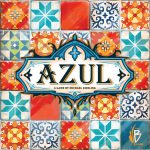 Designers: Michael Kiesling
Publishers: Next Move Games, Plan B Games
Boardgamegeek Info: Azul
GAMEMASTER
GM: Amy Rule
SCHEDULE
Demo: Saturday 1:00 PM
See schedule for Heat times
PLAQUES
The top two finishers in the final will receive a plaque.
Event Description
In the game Azul, players take turns drafting colored tiles from suppliers to their player board. Later in the round, players score points based on how they've placed their tiles to decorate the palace. Extra points are scored for specific patterns and completing sets; wasted supplies harm the player's score. The player with the most points at the end of the game wins.

For this event only the original Azul will be played, and all games will use the colored wall side of the player boards. Exception: The Azul Master Chocolatier game may be used, but only with the basic board.
PRELIMINARY ROUNDS
Three one-hour heats will be played.  Preference will be for 4-player games but we will use 3-player games as necessary.  Standard rules as in the box and no expansions or promos will be used.

Please bring your copy of the game.
ELIMINATION ROUNDS
If there are at least 32 total players:
The Top 16 players advance to the semi-finals, as determined by the standard Euro Quest tiebreakers. These players will play four 4-player games, the winner of each advancing to the finals.
If there are less than 32 total players:
With 4 or fewer unique winners, we will skip directly to a final with those winners.  If necessary, the next top ranked player(s) without a win will advance to fill the table to 4.
With more than 4 unique winners, we will advance either 8 or 12 (depending on the number of unique winners) to a semi-final.  The next top ranked players without a win will be included to fill out the tables.  Advancement of non-winners in the semifinal will be determined by placement in the semifinal game and then highest percentage of the semifinal winner's score.  The top 4 players from the semi-final will advance to the final table.
TIEBREAKERS
The following tie breakers will be used in all rounds.
1. Most horizontal rows.
2. Fewest tiles on your wall.
3. The player currently holding the start player marker (if involved in the tie).  In other words, the player who picked up the start player marker during the last round.
4. Reverse turn order from the last round.  Preference will be for players later in the turn order for the final round played.
______________________________

Azul at EuroQuest 2023 will award Meeple League points