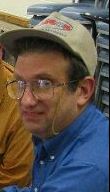 Once again, the Harold L. Siegelman Trophy will be awarded to the top overall individual performer based on results in events spanning the entire convention at EuroQuest.
The trophy is named in honor of Harold Siegelman, who was one of the most active and competitive gamers in the Games Club of Maryland until his untimely passing in March 2003. As well as being an accomplished Euro-Gamer, Harold was also a competitive tournament bridge player. Harold was also known for his prowess playing games on the Internet at BrettspielWelt, where he went by the moniker "Shlimazl."
At the time of his passing, Harold was looking forward to helping us organize this event, and much of the format and prize structure for the event is based on early input from Harold.
Scoring System
Everyone who has registered for EuroQuest is automatically eligible to compete for this award. Points are earned in two ways: Points for each different game won (as explained below), and Points from finishing in the finals of a Main Tournament game or the Top 5 of the Wild Card tournament. 
Important: The HLS award only includes games from the Main Tournaments and the Wild Card (hereafter referred to as qualifying games).
Points For Each Different Game Won
2 points shall be awarded per game where either of these conditions are met:
Win 1 game with 3 or more players
Win 2 games with 2 players*
* the 2 games won may be the same or different game titles in the WildCard event
Note: At most, only 1 Wild Card game title can count for Siegelman points
Points From Finishing In the FINALS
Points shall be awarded to players in the finals of each Main Tournament game or in the Top 5 of the Wild Card according to the following table:
| | | | | | |
| --- | --- | --- | --- | --- | --- |
| Level | 1st Place | 2nd Place | 3rd Place | 4th Place | 5th Place |
| Level 1: 50 Players or more | 8 | 6 | 4 | 2 | 1 |
| Level 2: 35-49 Players | 7 | 5 | 3 | 2 | 1 |
| Level 3: less than 35 Players | 6 | 4 | 2 | 1 | |
We will track the results on a large scoreboard that will be visible throughout the event. Game Masters from each qualifying game will make sure the scores are reported accurately for their particular game, and the top prize will be awarded on Sunday at the conclusion of the last Main tournament game and the Wild Card.
Tiebreakers
The competitor scoring the most overall points as outlined above will be awarded the Harold L. Siegelman Trophy as the top individual performer at EuroQuest. In the event of a tie, the tiebreakers will be:
Most first place finishes.
Most qualifying events in which the participants won a game.
Total points from scoring qualifying events multiplied by the number of participants. If still tied, then the award will be shared.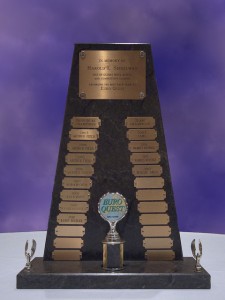 The Harold L. Siegelman Trophy, presented every year to the best at EuroQuest