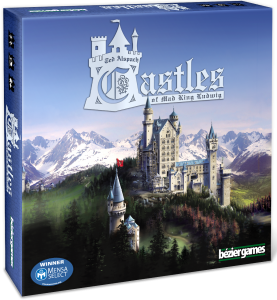 Designers: Self-published
Publishers: Bézier Games, Inc.
Boardgamegeek Info: Castles of Mad King Ludwig
As king, you live in a castle, but it is not completely built yet.  You start with a corridor room that has three exits and purchase rooms to add on to it to gain points. There are always several goals that every player is  trying  to be the best at so they get the most points for it at the end of the game.  In addition, each player starts with a secret goal and will have the opportunity to obtain more during the game.  When you close a room you always get a reward, and sometimes they are really great.  It may seem strange that certain  rooms don't like to be next to other types of rooms, but in the end, may the best Mad King win!
GameMasters
GM: Bob Oliver
Ass't GM: Eric Sokolowsky
Schedule
Demo: Thurs 3:30 PM
See schedule for Heat times
Plaque(s)
The top two finishers from the Final will receive a plaque.
Event Description
All heats and the elimination rounds will use the base game only.
4 players per table, if possible, but no less than 3 players.
Tie Breakers
Additional Tie Breakers:
1) Left over money
2) Total # of rooms including stairs and hallways.
FAQ
You must PURCHASE points for $10,000 each during endgame scoring, not just "receive" the points for having the money left over.
It it easy to miscount the points you should receive. However, points can be recounted accurately at the end of the game.
If you feel that you have forgotten to count some of your points, please wait until the end of the game since recounting is quite time consuming. If you decide to recount, all players should recount their points.
Elimination rounds
The top 16 players will advance to the semi-final round. When considering who will advance to the semi-final round, we will consider margin of victory if we have no other way to break a tie (for example, amongst players with one heat win and no other heats entered.)
The winner of the 4 semi-final games will advance to the final round.