Everyone who has registered for EuroQuest is automatically eligible to compete for this award. Points are earned in two ways: Points for each differentgame won, and Points from finishing in particular events.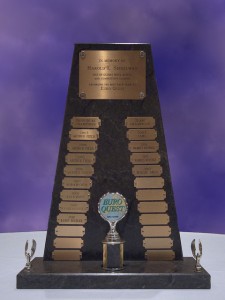 After all the main tournament and wild card games have completed, the Siegelman scores are computed and the coveted trophy is awarded.
Results
This year, the competition was very tight. In the end it went to a tiebreaker. Randy took the honors, as he had 14 wins to Andrew's 13.
1st (30 pts) – Randy Buehler
2nd (30 pts) – Andrew Emerick
3rd (27 pts) – Aran Warszawski
4th (26 pts) Haim Hochboim
5th (26 pts) Steven LeWinter