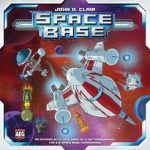 Designer: John D. Clair
Publishers: Alderac Entertainment Group
Boardgamegeek Info: Space Base
New FOR 2021
GameMasters
GM: Marcy Morelli
Schedule
Demo: Thurs 10:00 AM
See schedule for Heat times
Plaques
The top finishers (TBD) from the Final will receive a EuroQuest plaque.
The event description is still under development. 
Event Description
Game Versions
All heats, the Semi-Final, and the Final will use the Base game only.
Number of Players
Most games will be played with 4 players, with 5-player games as needed to fill out the tables. Players should seat themselves randomly at the table.
HEATS
There will be four preliminary heats in pairs of two, followed by the semi-final and final.
At beginning of Heat 1, the game owners (or other designee) will seat themselves and set up their game. Other players will be randomly assigned to a table by the GM.
At the completion of Heat 1, players should leave the game set up, and wait for reassignment for Heat 2.  Game owners will remain at their own table while other players will rotate tables.
Players who played in Heat 1 are encouraged to play Heat 2, but may withdraw if desired. Please notify the GM if you are not playing in Heat 2.
New players may join for Heat 2, but they must check in with the GM. Any new players will be mixed in to the tables before Heat 2 begins.
The same process will be repeated for Heat 3 and 4.
Each heat will count separately, so a player could accumulate up to 4 scores if they play in all heats.
Elimination Rounds
The 16 players with the best record will advance to the semi-final, which will consist of four 4-player games. Winners of each semi-final table will advance to the final game.
Rules Clarifications/Notes
All games will use the Light Speed Variant. Be sure you are familiar with this variant before beginning play.
Tie Breakers
At the end of the game, the player with the most victory points wins. If more than one player is tied for first, play another round.
If players are still tied, the following tiebreakers should be used:
Least Colony cards purchased
Highest income
During a heat, if players are still tied, both players will receive the placement. In the semi-final, both of the tied winners may advance if we can accommodate them, but the final game will not contain more than 5 players. Consult the GM.
In the final game, players will continue to play rounds until there is a clear winner.