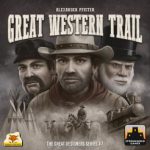 Designer: Alexander Pfister
Publisher: eggertspiele
Boardgamegeek Info: Great Western Trail
2021 Description
GameMasters
GM: Scott Saccenti
Demo: Thurs 10:00 AM
See schedule for Heat times
Plaque(s)
The top finisher from the Final will receive a plaque.
Event Description
GIDDY-UP!
Manage your herd, and navigate the opportunities and pitfalls of the Great Western Trail. New players are welcome, so long as they have at least read the rules OR attended the teaching Demo.
Preliminary Rounds
2 heats of 2 1/2 hours. 4-player games are preferred but we will use 3-player tables if necessary to allow all players to play.
Reasonable effort will be made to split up family/team members where possible.
In heats, players will draft starting Objective Cards in reverse initial turn order. The placement and the side (A/B) of the neutral buildings will be random.
No promos. Some effort will be made to accommodate players interested in playing the Rails To The North expansion (heats only!), but this will depend on interest
Tiebreakers
Tie-breaker (in heats) will be REVERSE initial turn order.
Tie-breaker (in elimination rounds) will be leftover coins AFTER spending for game-end VPs, with second tie-breaker being bid-for initial turn-order.
Elimination Rounds
After two heats, if there are eight or fewer game-winners, we will cut to Top Eight, and advance the top two from both Semi tables to the Final.
If there are more than eight game-winners, we will cut to 16 if possible, leading to a 4-player Final.
In Semis and the Final we will bid VPs (to be deducted at game end) for initial turn order.

Great Western Trail at EuroQuest 2021 will award Meeple League points