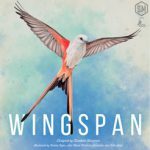 Designer: Elizabeth Hargrave
Publishers: Stonemeier Games
Boardgamegeek Info: Wingspan, 2019 Kennerspiel des Jahres winner
GameMaster
GM: Andrew Emerick
Schedule
Demo: Thurs 4:30 PM
See schedule for Heat times
Plaques
The top two finishers from the Final will receive a EuroQuest plaque.
Event Description
Game Versions
There will be three preliminary heats, followed by the Semi-Final and Final.
The Europe, Oceania, or Asia expansions may be used in the heats, if all players agree. Otherwise, the Base game must be used. 
The Semi-Final and the Final will use the Base version of the game.
Number of Players
Most games will be played with 4 players, resorting to 5-player games only if needed. Players will randomly select turn order and seating order at the start of each game.
Elimination Rounds
If there are 4 or less winners, we will advance directly to a final.
If there are 5 to 8 winners, we will play an 8 player semi advancing first and second to the final.
If there are 9 to 12 winners, we will play a 12 player semi advancing winners and the best second to the final.
Otherwise, we will play a 16 player semi with the winners playing a final.
Advancement of non-winners to the semi will be determined by the highest percentage of the winner' score
Rules Clarifications/Notes
We will draft the initial set of 5 bird cards, passing to the left

The following tiebreakers will be used to determine finish order within a game:
 Most unused food tokens remaining
 Most unused bird cards remaining
 Was latest in turn order on turn 1
______________________________________

Wingspan at EuroQuest 2023 will award Meeple League points