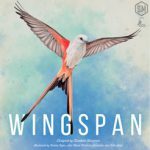 Designer: Elizabeth Hargrave
Publishers: Stonemeier Games
Boardgamegeek Info: Wingspan page, 2019 Kennerspiel des Jahres winner
New FOR 2021
GameMasters
GM: Andrew Emerick
Schedule
Demo: Thurs 10:00 AM
See schedule for Heat times
Plaques
The top finishers (TBD) from the Final will receive a EuroQuest plaque.
The event description is still under development. 
Event Description
Game Versions
There will be three preliminary heats, followed by the semi-final and final.
All heats, the Semi-Final, and the Final will use the TBD version of the game.
Number of Players
Most games will be played with 4 players, resorting to 5-player games only if needed. Players will randomly select turn order and seating order at the start of each game.
Elimination Rounds
A 16 player semi-final will be held, consisting of four 4-player games.
Rules Version
Rules Clarifications/Notes
Tie Breakers
The following tiebreakers will be used to determine finish order within a game:
TBD
______________________________________

Wingspan at EuroQuest 2021 will award Meeple League points