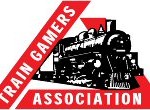 The Puffing Billy® tournament is returning to EuroQuest in 2017!
Conductor: Steve Shambeda
Start time: Wed 5:00 PM
End time: Sat 11:30 PM
The Puffing Billy tournament format is owned by the Train Gamers Association and has a format similar to the EQ Wild Card tournament. A list of eligible games will be available on the convention floor. Players can play and submit scores from any of the games on the list to qualify for points.
The player with the highest total score will win the tournament!