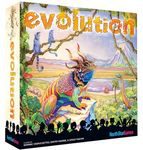 Designers: Dominic Crapuchettes, Dmitry Knorre, Sergey Machin
Publishers: North Star Games
Boardgamegeek Info: Evolution
GAMEMASTER
GM: Bruce Voge, North Star Games
SCHEDULE
Demo: Sat 6PM
Tournament: Sat 7PM
Heat of 16 players. Winners advance to the final table immediately after the heat finishes.
Note: NorthStar Games will also be doing demos of their other games on Thursday and Friday evening.
SIGN UP
The tournament can accommodate up to 16 players. Players must sign up at the Front desk by Saturday at 6PM.
If you aren't able to sign up in advance, check with Bruce right before the tournament start time. If there are any open slots, they will be filled first come, first served.
Beginners are welcome, but should have read the rules or attended one of the demonstrations.
Event Description
North Star Games is sponsoring this stand-alone tournament.
In Evolution, players adapt their species in a dynamic ecosystem where food is scarce and predators lurk. Traits like Hard Shell and Horns will protect your species from Carnivores, while a Long Neck will help them get food that others cannot reach. With over 4,000 ways to evolve your species, every game becomes a different adventure. For more information about the game, check the NorthStar website at:
Format
Up to 16 players will compete in an initial heat using the Evolution base game. 4 player tables will be used. The games will used the published rules, no promo cards or house rules.
The winner from each table will advance to a 4-player final table. If the winner cannot continue, then the 2nd place player at that table will advance.
The final game will begin immediately after the heat.