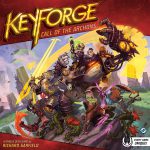 Designers: Richard Garfield
Publishers: Fantasy Flight Games
Boardgamegeek Info: https://boardgamegeek.com/boardgame/257501/keyforge-call-archons
KeyForge is a unique deck game of tactics and non-stop action for 2 players. Each deck is unique and ready to play right out of the box.
GM/Sponsor
Legend Dan Hoffman, Canton Games
SCHEDULE
Demo: Fri 5:00 pm – 7:00 pm
Learn the game and practice with other newcomers and experienced players. Practice decks will be available.
Heats (continuous)  – Fri 7:00 pm to 10 pm
Final (if needed) Fri 10 pm
Format 
Each player must have their own sealed copy of the game. A player may purchase a deck at the Canton Games booth prior to the start of the tournament for $10. Alternatively, a player may bring a sealed deck that they already own. Please submit this deck to the GM before the start of the heats so it can be verified.
The GM will coordinate multiple games during each time slot. Players appearing at the start time will be matched randomly with another player. Each pair should complete one game and report the results on a score sheet.
As players finish a game they can then be matched up with an opponent who they have not played before and who has a similar record. A player may join at any time, but they may experience a long wait time until another player is available.
Players should be able to complete 3-4 games during the time allotted for the heats.
Elimination Rounds (if needed)
At the end of the heats, the player with the best record will be declared the winner. If several players are tied, additional games will be played between the tied players until one player prevails.
Prizes
Canton Games will supply cool prizes for all players.