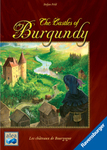 Designers: Stefan Feld
Publishers: alea, Ravensberger Spieleverlag GmbH
Boardgamegeek Info: Castles of Burgundy

GameMasters
GM: Chris Moffa
Schedule
Demo: Thurs 8:00 PM
See schedule for Heat times
Plaque(s)
The top two finishers from the Final will receive a plaque.
Event Description
3 Heats of 2 1/2 hours each for the preliminary rounds. 4-player games are preferred but we will use 3-player tables if necessary to allow all players to play. Table seating and Player Order will be determined by random card draw.
The player who is farthest along on the victory track is the winner. In case of a tie, the winner is the tied player with the most empty estate spaces (as per the German version of the rules). Should there still be a tie, the winner is the tied player who went later in the Turn Order during the last turn.
Board selection
The standard beginner boards will be used in the initial heats. Random advanced boards will be chosen for the semifinal and Final. If all players at the table are in agreement, then advanced boards can be used in the initial heats as well, otherwise the standardized boards are the default.If advanced boards are used, draw your board and use the face up side.
Board #8 may not be used during any part of the tournament.
Elimination Rounds
If there are at least 35 players:
The Top 16 players advance to the semi-finals, as determined by the standard Euro Quest tiebreakers.
It should be noted that one win alone may not guarantee advancement depending on the total number of tables (if there are more than 16 first time winners between the heats) so next best finish will be used for rank order in such case. For example, a 1st place and a 4th place would be ranked higher than a single win. If we have to differentiate between sole game winners, greatest margin of victory (over second place) will then be the determining factor.
The semifinal winners (or runner-up alternates if necessary based on closest percentage of winner's score) will advance to a 4-player Final. We will consider margin of victory if we have no other way to break a tie (for example, amongst player with one heat win and no other heats entered.
If less than 35 players:
The number of people advancing to the semi-final will depend on the number of winners.
4 or less winners  >> we will skip directly to a final with those winners. If necessary, the best player without a win will advance to fill up the table to 4.
More than 4 winners >> we will advance either 8 or 12 (depending on the number of winners with enough seconds to fill out the tables) to a semi-final. The top 4 players from the semi-final will advance to the final table.
Rules Variants
No house rules or rule variants will be used at any point during the tournament.

St Petersburg at EuroQuest 2019 will award Meeple League points