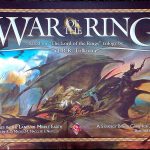 GM: Michael Sosa
Website:  https://www.aresgames.eu/games/war-of-the-ring-line
2021 information
This year, the war game track will feature War of the Ring, a game first published in 2004, which covers the Lord of the Rings novels by JRR Tolkien. Numerous editions and expansions have been issued by its current publisher Ares Games. The approximate playing time is 3-4 hours.
How to play
A demo of the game will be held on Friday at 7 pm.
Report to the designated area for a round at the announced times. The GM will coordinate multiple games during each time slot.
We will assign players to opponents who they have not played before and who have similar records.
Format
We will play the base game, two players, although expansions can be used if both players agree.
Please bring a copy of the game if you have one.
ELIMINATION ROUNDS
After three rounds the GM will either declare a winner or possibly have the best two records face off in a final, depending on time and availability.
Sides can be agreed to or Dwarven rings can be granted (Rerolls of action dice)
Scheduled Games
Friday 7:00 PM – DEMO
Friday 8:00 PM – First Heat / Round 1
Saturday 10:00 AM – Second Heat / Round 2
Saturday 3:00 PM – Third Heat / Round 3
Saturday 8:00 PM FINAL (if needed)