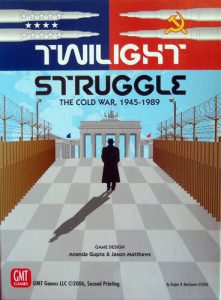 GM: Michael Sosa
This year, the war game track will again play Twilight Struggle. Twilight Struggle is a two-player game simulating the forty-five year dance of intrigue, prestige, and occasional flares of warfare between the Soviet Union and the United States. The approximate playing time is 3 hours.
How to play
A demo of the game will be held on Friday at 8pm.
Report to the designated area for a round at the announced time. The GM will coordinate multiple games during each time slot.
We will assign players to opponents who they have not played before and who have similar records.
After three rounds the GM will either declare a winner or possibly have the best two records face off in a final, depending on time and availability.
Please bring a copy of the game if you have one.
Scheduled Games
Friday 8:00 PM – DEMO
Friday 9:00 PM – First Heat / Round 1
Saturday 2:30 PM – Second Heat / Round 2
Saturday 7:30 PM – Third Heat / Round 3